Ivy Willow

Height

4'5"

Hair

Blue-green

Eyes

Green

Rank

Major

Threat Level

Fair

Element

Nature

Affiliation

Nebula Squadron

Status

Alive

Age

16

Ethnicity

Nymph
Appearance
Edit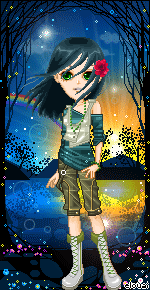 Ivy has blue-green hair, green eyes, and tanned skin. She is 4'5". Ivy always wears clothes in shades of green, and she usually wears a red rose in her hair. She is described to have nymph-like features, as her mother was a wood nymph. Ivy is sixteen years old.
Personality
Edit
Ivy's very quiet, and is usually mistaken to be shy. However, she's actually very stubborn and proud. She hates people who destroy nature, and flies into a rage whenever she sees people littering. She's quite loyal, and will always pull through for her friends. However, Ivy's not exactly the trusting type... Her rank is officer.
Gun
Poisoned darts
Blowgun
Abilities
Edit
She can also control nature in her normal state, but to a lesser extent than when in her ChangedForme. Also, Ivy runs out of energy faster when in her normal state. However, she's still demigod-child-of-Demeter level powerful (aka, kinda in the middle; not a weakling, but not too powerful). Ivy's pretty good at camoflauge.
ChangedForme
Edit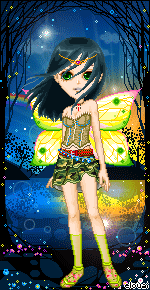 Nature
Appearance
Edit
Ivy looks similar to Rydia of Mist (from Final Fantasy IV) in her ChangedForme, except she has a pair of wings.
Abilities
Edit
When in her ChangedForme, Ivy can control plants to wrap around her opponents, strangle them, trap them in a net of roots, or attack them. However, this is taxing on her strength, so she'll eventually run out of energy.
Fatal Flaw
Edit
Ivy's fatal flaw is not trusting people enough.
Threat Level
Edit
Fair
Relationship With Others
Edit
Sen Urec-He annoys the hell out of her. Aside from that, she has a small crush on him. (Although she will never, ever, ever, ever, ever admit it.)
Adrianna Hummels-They are good friends
Tourmaline Persona-She thinks that she's okay, and feels sorry for her.