Kallakabukk is a Wookiee Jedi.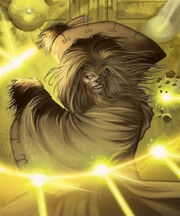 He is often called 'Kalla.' He is
Shorryyhn
's twin (but not identical) brother.
Major
Character
Edit
Appearance
Edit
Kalla has light brown fur, but other than that, looks like a normal Wookiee. He wears brown Jedi robes.
Personality
Edit
Kalla is always calm, seeming to be at peace with the world. He rarely gets angry, although he fights viciously against agents of evil.
Abilities
Edit
Being a Jedi Knight, Kalla can use the Light side of the Force, and weild a lightsaber with great expertise. Also, being a Wookiee, he has emense strength, and can easily rip the arms of a grown man.
Kalla's main weapons are his yellow-bladed lightsaber and the Force. He also uses his body as a weapon, as he can go hand to hand against at least 50 unarmed enemies, and slightly fewer armed ones.
ChangedForme
Edit
Pyric
Appearance
Edit
When in his ChangedForme, Kalla's entire body is engulfed in flames, and his eyes turn fiery red and orange, appearing to be flames themselves.
Personality
Edit
While Kalla is calm and peaceful normally, in his ChangedForme, everything about him is fiery, including his personality. He angers easily, and does not care who he harms, should they prevoke him.
Abilities
Edit
Kalla can shoot balls, streams, and jets of fire at people and objects. He can use the fire like a whip, and entrap enemies with it.
In the ChangedForme, Kalla doesn't use any weapons, excepting the fire.
Weaknesses
Edit
He is too trusting of people allied to the side of good. However, he will help to beat some sense into someone (mentally, usually, though sometimes with actual force).
His name is in Shyriiwook, the language of the Wookiees.
The first part of his name, 'Kalla,' means "angry, mad, wild."
The last part of his name, 'kabukk,' means "ancestor" or "guide, councilor."
He only speaks Shyriiwook.
He is 400 years old.