Leah d' Este

Hair

Blonde

Eyes

Blue

Rank

Recruit

Threat Level

Low-Fair

Element

None

Affiliation

Nebula Squadron

Status

Alive

Age

15

Ethnicity

French

Height

5'1"
Appearance
Edit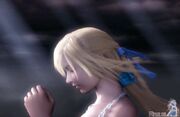 Leah has blonde hair, blue eyes, and pale skin. She usually wears white clothes. She wears her hair down with a single braid down her back.
Personality
Edit
Leah is an altruist. She can't resist helping people in need, and is very trusting. However, she's gullible and can be easily fooled. Leah is very peaceful and hates to fight. She's also a good listener.
Abilities
Edit
She doesn't have a ChangedForme, but Leah is an excellent healer. She has some of the abilities of a White Mage and can cast White Magic to an extent.
Relationships With Others
Edit
Derek Voramee: She secretly has a crush on him
Adrianna Hummels: Leah looks up to her and admires her
Gabriel Angioletto: They're cousins, so....yeah.
Etymology
Edit
Her surname, d' Este means "of the east" in Italian, and Leah means "sad-eyed" in Hebrew.
She has a pet dove named Joy